How to Style // A Stretchy Pencil Skirt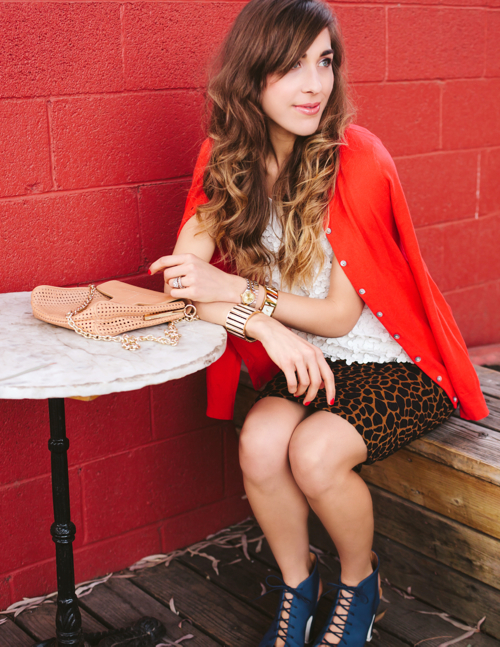 I rarely find myself needing to dress in traditional office-appropriate gear, but recently I've fallen in love with these stretchy pencil-style skirts that seem to have shoved their more restrictive counterparts out of the way.  I have a quirky striped version, a classic solid navy, and one in animal print (naturally), and you've probably noticed that they've all found a welcome home in my closet over the past few months.Back in the Spring, I was so flattered to be asked to style up a "3 Ways to Wear It" feature for Emma Magazine, and I knew immediately that this would be the item from my closet that I wanted to frame the piece around.Keep reading to see how I created multiple looks around my latest closet staple, and shop the post to get the look for yourself!
This first look was definitely intended to provide a more professional take on the trend, and for my (imaginary) office outfit, I paired the skirt with a vintage structured top, statement bib necklace, envelope clutch & classic tan pumps.
Next, I wanted to include a look, that would be perfect for a romantic night out (might have to recreate this one for our next Date Night!), and I used a feminine embellished shell, a bright cardigan, while keeping the accessories simple with a geometric cuff and chunky blue heels (shown in the top pic).
Lastly (and my favorite!) - I needed to show how I like to wear the look most, and that's for a casual day-date with friends or even just running errands around town.  I went for some major pattern-mixing by pairing it with a watercolor floral top, my favorite everyday handbag, aviator sunnies & the usual giant stack of bangles.
Photos by Michelle Herrick // Spread originally featured in Emma Magazine
Now I'd love to know: Which look above is your favorite?
Shop the post here...
Need even more stretchy skirt inspiration?  Check out the very same piece seen above from this post earlier this summer!