Featured // Bauble Bar Blogger Lookbook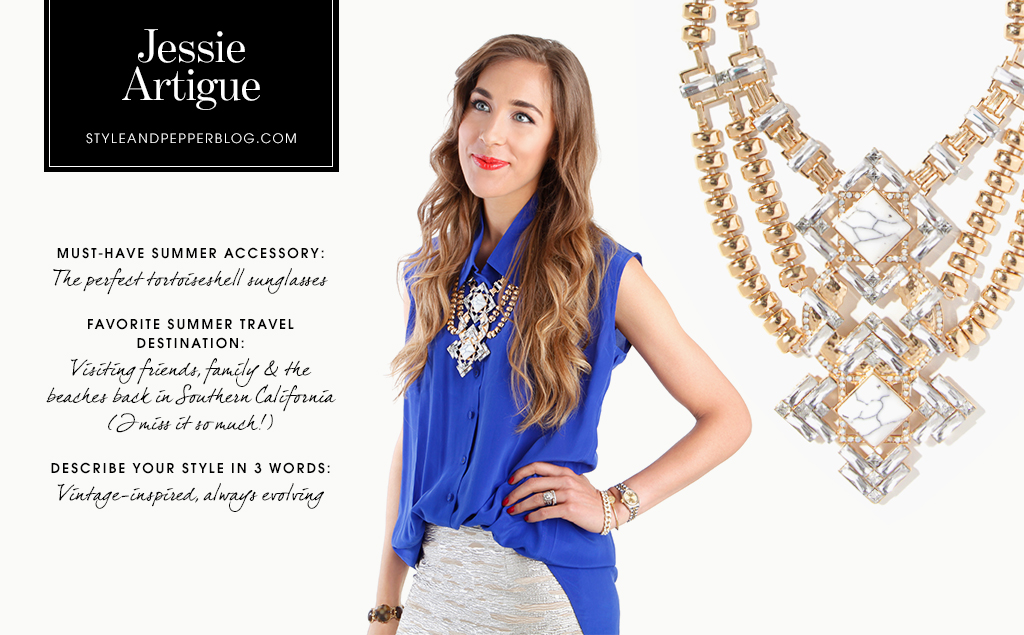 Find this necklace here!
You may have noticed how much I love wearing statement jewelry on a day to day basis, and although the vintage gems are always my first choice, I would have to say that Bauble Bar is easily at the top of my list of great shopping resources.I am SO honored to be one of the 5 bloggers featured in their latest lookbook, and loved getting a chance to "model" alongside Jenni, Jessica, Caroline & Sara - three of my favorite blog buddies (and total beauties, to boot)!  Besides just showing you the photos, I thought it might be fun for me to share my thought process behind styling up this gorgeous statement necklace with you here, so keep reading for the details, and feel free to let me know how YOU'D wear the piece in the comments below!
After choosing this art-deco bib necklace in white, I knew that I wanted to have a boldly colored blouse behind it to give the piece a chance to really pop.  I went with this silky cobalt blue tunic from SZEKI NYC (that I've also worn as a dress), and then this skirt from Crossroads Trading Co. was a fairly obvious next step for me.
The look you see here is definitely a dressier option, but I'm also excited to wear this exact same combo with a pair of distressed boyfriend jeans instead of the shimmery mini-skirt.  Also loved having an excuse to wear my new white-hot heels from this summer style post a few weeks ago. :)