In the Kitchen // Great Gadgets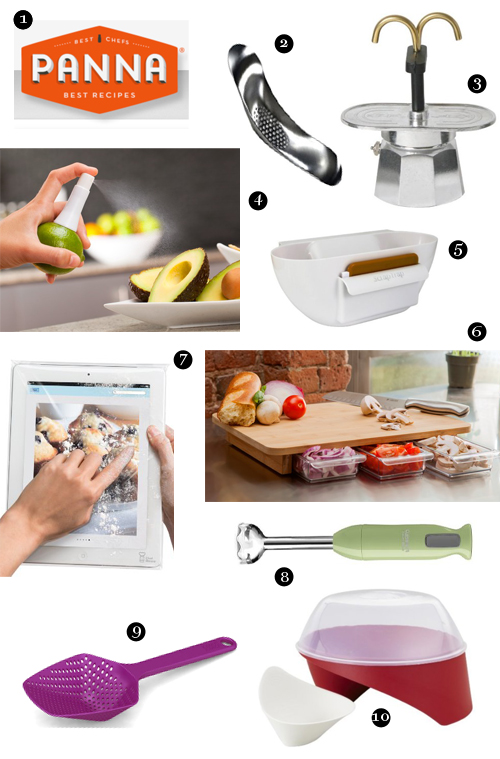 We've been doing some serious Spice up our Space projects at Casa de S&P lately, and one of the areas that still feels a little neglected is the room where I spend some of my most favorite time: The Kitchen!

I often find myself thinking that certain tasks would be so much easier if I had a little extra help from some handy tools, and figured it might be fun to share my wish-list of gadgets with you here in today's In the Kitchen post.  See below for some of the things that I'd love to add to my toolbox, and let me know in the comments if I've missed any must-haves!

1. // Panna Video Cooking Classes - This app is a beautifully curated digital magazine of sorts, and it's filled with recipes, how-to videos and tips to help you feel more familiar in the kitchen.  The functionality and design of the app itself are incredible, and if you're looking to learn and develop your own cooking prowess, I'd highly recommend it for all skill levels.
2. // Garlic Rocker - I have a garlic press that I love, but it is admittedly a BIG pain to clean after each use, and it looks like this little guy would be as easy as just a quick rinse (and maybe just a smidge of help from a scrub brush) without all the residue of a traditional mincer.
3. // Stovetop Espresso Maker - First experienced one of these at a friends home in February, and have not been able to stop thinking about it ever since!  We LOVE our current coffee maker, but it would be nice to have this for weekends and after-dinner apertifs.
4. // Stem Fruit Sprayer - Citrus goes with everything!  That's one of my cooking mottos...  Can't attest to whether or not this one actually works, but love that looks like it would eliminate nearly any clean-up that goes along with the other ways to get fresh juice, and I'd definitely be willing to give it a whirl squirt.
5. // Counter-top Scrap Trap - This would be a serious upgrade from my current method of hanging an empty grocery sack on the drawer handle by my hip, and tossing the scraps in there while I chop.
6. // Mocubo Cutting Board - Another smarty-pants idea that keeps your cut goodies separate until you need them in the recipe.  No more juicy tomatoes getting their goodness all over everything else!
7. // iPad Chef Sleeves - If you've ever tried to cook or bake while using a recipe on your iPad or tablet, you'll need no proof as to why this one is genius.  Just try explaining to your significant other or roommate why the 'home' button on their device has curry powder stuck in the grooves (#oops), and you'll see why this is your next must-have.
8. //  Immersion Blender - I thought these were kind of silly seeming for the longest time, but after coming across multiple tasty recipes that include a quick blended item, I realized that it would be SO much easier than bothering to get out the big blender or Magic Bullet.
9. //  Scoop Colander - Pasta, steamed veggies, roasted potatoes... The list goes on and on!  I'm sick of angel hair sneaking through the openings in my slotted spoon, and again - If I don't have to get out our giant colander, I'd rather not. (Plus... space saver for the win!)
10. //  Microwave Popcorn Maker - I make homemade stove-top popcorn at least 2-3 times per week, and while there's nothing quite like the smell of the kernels toasting up over an open flame, this little guy makes clean-up a lot easier, needs no oil for cooking & doubles as a serving bowl!
*Layout by Sarah Sherwood for Style & Pepper


Do you receive the S&P newsletter?