Event // Bauble Bar Unwrapped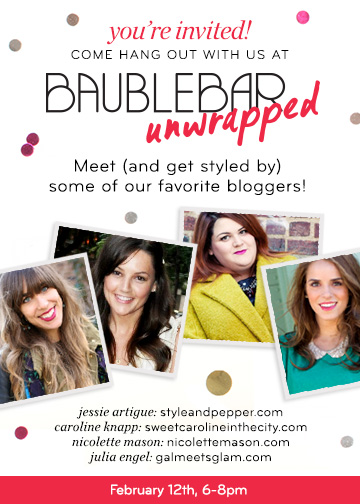 If you happen to be as big of a BaubleBar fan as I am, you've probably already heard a bit of hubbub about their 2-year birthday festivities happening this month: free gifts with purchase, pop-up shops, an extra-sparkly special collection... sign me up for all of the above!

I'm also excited to help them celebrate their anniversary is by joining a few of my fellow jewel-loving style bloggers (including yours truly!) at their pop-up shop in the Meatpacking District next Tuesday night!  I'll be there alongside Julia Engel, Nicolette Mason, and Caroline Knapp for a sparkly little styling session with some of our readers, and I'm really looking forward to a laid-back ladies night with sweet friends, new and old! 


344 West 14th St (at 9th Ave

)


Will you be able to join me and and few of my best gals for some glittery fun?  I'd absolutely LOVE to see you there!


Do you receive the S&P newsletter?