Trendwatch // Backwards Cardigans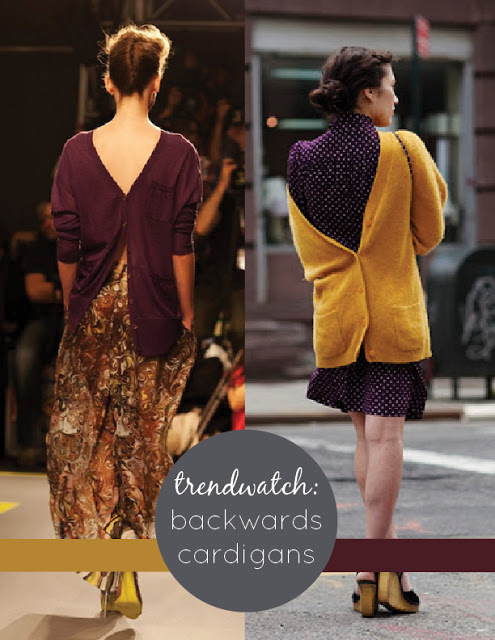 If you follow along with the Delightful Dozen blog (which I would highly suggest - wink wink!), you may have already seen my exploration of this quirky trend, but after a handful of emails requesting more info, I wanted to follow up here with some tips and shopping help.

When attempting to try out the backwards-cardigan-look:

Avoid sweaters with front-hip pockets! No one likes to have two saggy little squares on their cheekies!
If you're reaching for a cardigan with any sort of pattern or embellishment on it, make sure it continues onto the back. (I'm always surprised at how many don't - we gotta look cute from behind, too!)
Pay attention to the placement and visibility of the tag!  Snip it out and remove the threads carefully so it can't be seen from the front.  If you'd rather leave it in, find a pretty scarf or statement necklace that strategically hides it from view.
After shopping around a bit, I found some options at Urban Outfitters that I think would fit the bill quite nicely... 



Check out my original post about backwards cardigans here, and above all - remember that experimenting with your personal style is supposed to be fun!