Event // IFB Conference, February 2012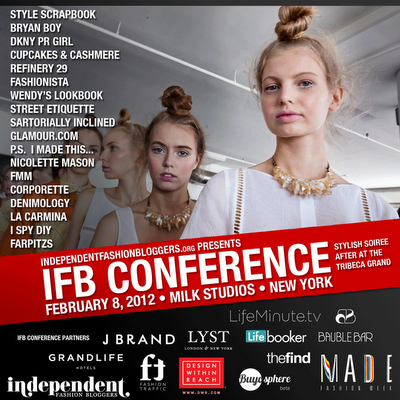 Pretty excited for the upcoming New York Fashion Week, as it will be my first season living in the NYC-area!  I've got a feeling that it will be a completely different experience than traveling here just for the occasion, and I'm definitely looking forward to being able to sleep in my own bed each night after a weeks worth of jam-packed days!

One of the events that I'm already starting to prepare for is attending the IFB Conference as a speaker, where I'll be moderating a panel of pros!  Totally honored to be involved, and if you're in the area (or can make it here) on February 8th, I'd LOVE to see you at the event!  

I've attended as a blogger in the past, and not only does it provide incredibly useful resources and information about style blogging, but the networking alone makes it completely worth it.  Not convinced?  What if I told you that the swag is AWESOME.

Check out the amazing lineup!

The IFB Conference
February 8th, 2012 at Milk Studios, 450 W 15th Street, NYC
Doors open at 8:30 a.m., first panel at 9 a.m., with a lunch break at 12 p.m.
Come party with us afterwards!
$60 for IFB members (if you're an independent fashion blogger, join here), $300 for non-members.