Concrete Catwalk // Sequin Shorts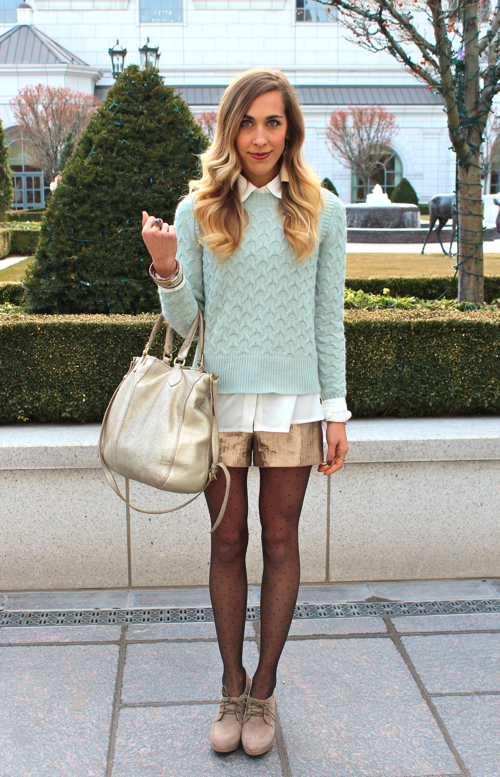 Business on top, party on the bottom?  If there's one place a look like this works, it's DEFinitely a blogging conference.  The sequins and sparkles were so liberally sprinkled throughout most of the outfits, and there are probably still pieces of glitter embedded in the carpet of the Grand America. :)I decided to make my new favorite shorts do double duty and I wore them to the mini-parties on Friday night, as well.  Just a quick change of the shoes & bag...
A swipe of bright pink lipstick, a different shirt, and the addition of one of my favorite DIY's: my leather collar necklace, and we were ready to scoot out the door in minutes.
Don't you love it when an outfit can go from day to night seamlessly... I'd love to know if you have any standout pieces that make for a unique, but easy transition?  Help your stylish sisters out, and share with us in the comments!Top to Bottom:Tassel earrings - DIY (similar)White silk shirt - Vintage, thrifted (similar)Sweater - J. Crew (on sale!)Sequined shorts - c/o Express (similar)Tights - The Limited (similar)Bangles - Vintage, Thrifted Ring - Accessorize USA (similar)Handbag - J. CrewGrey heels - c/o Aldo (similar)Chevron top - Vintage, thrifted (similar)Black clutch - Vintage, thrifted (similar)Black booties - Thrifted (similar)