Travel // My Essentials, Part I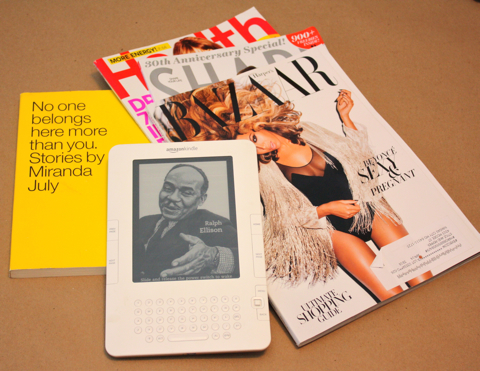 i'm off to my sunny home-state of arizona this morning,
and because i've really had packing on the brain lately,
i thought it might be fun to share my travel essentials with you.
reading material... it looks like a lot, but i'm a bit of a bookworm, 
and i need the fashion glossies for the non-electronic take-off & landing! 
(like i need to justify it to you!) :)
DVF pouch for receipts (c/o from the lucky FABB gift bag), 
business cards and S&P stickers!
SNACKS... i HATE airport/fast food so i've learned to bring my own.
starbucks via and splenda packets, gum, emergen-C, fruit/veggies,
cayenne pepper (have i ever told you how much i love spicy food?),
and thinkthin bars if i think i'm going to be needing a breakfast standin (not pictured).
(i love that he puts his initials on things because we share a monogram!),
hand sanitizer, advil, blotting sheets, bobby pins, spin pins, and hair tie
cocoa butter stick for avoiding those pesky liquid-induced security hangups,
now that i'm at the airport, i'm realizing that there are several that i forgot to photograph:
ziploc baggie of jewelry - i keep what i'll wear with my outfit for that day in a baggie in my purse so that i can put it on after i get through security and avoid losing it during the bustle of going through the line.
empty water bottle - i refuse to spend money on water at airports (hello $8 bottle!), so i bring my trusty brita bottle empty and use a drinking fountain to fill up after security.
gymboss interval trainer - this little guy is perfect for HIIT runs/hikes and my fave traveling workout: bodyrock.tv.
cozy pashmina (my fave is a shimmery olive green) - this one is pretty self-explanatory, but so handy to wrap around you on a chilly flight, and can also be a pretty added layer to many of my packed outfits.
i always love to hear what travel items that others can't live without
(especially because that's how i've come across most of my must-haves),
so feel free to share yours in the comments! 
oh, and while you're at it: what are you all downloading to your kindles
*slash* picking up at the library these days?