Beauty Bite // CND Shellac for Nails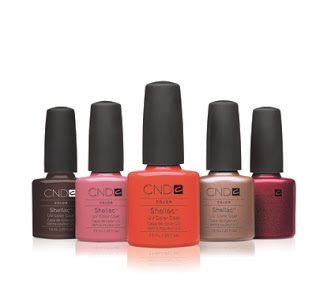 the product:
i am obsessed with nail polish.
i love the process of painting my nails, 
the detail it adds to an outfit,
and the shininess of the lacquer in the first few days.
these could all be reasons why i was so resistant to try the latest craze in nail product,
but my mom swears by this "fabulous" shellac, and the last several times i have seen her nails,
they looked gorgeous.
so when a new salon opened just blocks from my house,
(that was the brand i had heard the most about) -
they said yes, and i booked my first appointment for that day.
only $20 for the shellac, and it would have been $30 if i had wanted a mani with it.
the verdict:
this was TWO weeks ago.
since then, i have traveled to and from NYC
(on 5 different planes!),
styled/produced an outdoor photoshoot,
and replanted several of my new houseplants...
ALL things that normally wreak havoc on my nails.
how do they look, you ask?
not. a. single. chip.
the shellac is still shiny, intact, and going strong.
this super dark color in the front is the one i got
tips & tricks: 
i became fast friends with the gal who did mine (diane at
oak nails
)
and she told me all of the pros and cons of the other brands
and it sounds like CND is going to be the one i stick with... 
it's cheaper, gentler on your nails, and comes off the easiest.
she also made a great point in telling me that if you want the absolute best longevity,
choose a lighter color so the regrowth at the nail bed doesn't show up quite as much
(this can also depend on how quickly your nails grow).
bottom line:
i love the process of painting my nails, 
so i'm sure i'll still do it myself from time to time,
but for things like traveling or special occasions,
or even just busy ladies who like to keep their polish looking perfect,
i think this is the best (and most affordable) option!

weigh in:
have you ever had shellac on your nails?
i'd love to hear about your experiences and what you loved/didn't love!
where did you have it done? will you do it again?
*i am not receiving any sort of compensation for this post... i am truly excited to have tried and loved this product and am so pleased with the salon that i went to.  if you're in kansas city, you should definitely try them out!*